Adult Education
Adult Education

Learning with Our Clergy
Lunch & Learn: The Shabbat Liturgy of Siddur Lev Shalem ​​​
Led by Rabbi Micah Peltz, Rabbi Bryan Wexler, and Rabbi Steven Lindemann
Using our new siddur, Siddur Lev Shalem, and the many wonderful insights and commentaries that fill its pages, our Lunch & Learn Class will provide a journey through the Shabbat liturgy. We will begin with Kabbalat Shabbat and over the course of a few years, make our way through all of the Shabbat services. We will be using Siddur Lev Shalem as our primary text, and our learning will be focused on the theology, history, structure, meaning, and context of the various prayers. You bring the lunch, we'll bring the learn!
Tuesdays 12:30-1:30 pm: October 29, November 5, 19, December 3, 17, January 7, 21, February 4, 25, March 17, 31, April 21, May 5, 19
The Problem with Charismatic Leadership: The Book of Judges
Led by Rabbi Micah Peltz
The biblical Book of Judges describes how the Israelites try to govern themselves after conquering the land of Israel. It's not so easy. Times of peace and prosperity give way to conflict, violence and strife. And the cycles continues. Judge after judge arises to try and bring order and justice to the Promised Land. Some succeed and some fail. Here we will study the stories of this book, and discuss leaders and leadership then and today. Lunch will be available for purchase for $10/session.
Wednesdays 12-1:15 pm; October 23, November 20, December 18, January 8, February 12, March 18, April 1, May 13
Tuesday Night Talmud: Masekhet Ketubot
Led by Rabbi Steven Lindemann
Ketubot means marriage contracts. Having completed Sota last year, we continue our study of women's rights, particularly in marriage. The Steinsaltz edition of the text offers this introduction: "Masekhet Ketubot is the central tractate in Seder Nashim. In it are clarified most issues of marriage relationships between husband and wife – marital relations, mutual responsibilities, and financial agreements. Due to the broad spectrum of topics covered in it, which include many subjects that are not directly related to married life, Masechet Ketubot is referred to by the rishonim as Shas katan (the Talmud in miniature) or mafte'ach ha-Shas (the index to the Talmud)."
Tuesdays 8:15 pm: October 29; November 12, 26; December 3,17; January 7,21; February 4, 18; March 31; April 21; May 5,19. Registration $25, Text: $45 (available first day of class)
Soul Sisters
Led by Cantor Jen Cohen
Join us as we explore the stories, laws, and role of women in the Tanakh through a lively discussion of the parasha of the week.
Wednesdays 12:30 – 1:30 pm (new time!): September 25; October 16 (Trip to NMAJH), 30, November 6, 20; December 11; January 8, 22; February 12, 26; March 11,25; April 22; May 6, 20

Morning Minyan
The Rambam on Prayer
Led by Rabbi Bryan Wexler, Tuesdays at 7 am
The Mishneh Torah is a comprehensive code of Jewish religious law. It was authored by Moses Maimonides (Rambam) between 1170-1180 CE and is considered to be his magnum opus. It details all of Jewish observance, including the laws of prayer. Each week, as we continue to explore our new siddur, Lev Shalem, we will study one or more of Maimonides teachings about prayer in the hopes of adding deeper understanding and meaning to our own prayer experiences.
The Press and the Prayer Book
Led by Rabbi Steven Lindemann, Wednesdays at 7 am
We will explore the way the Siddur speaks to topics of import from the Jewish and secular press. Prayer may not be able to change the facts we face in day to day life, but it can change us and the way we respond to the world around us. And perhaps that can change the world.
Hasidic Commentaries on Torah
Led by Rabbi Micah Peltz, Fridays at 7 am
Each week we will explore a different Hasidic commentary to the weekly Torah portion. This will give us a good preview of the weekly Torah reading, and provide us with thoughtful insights on life, and lessons to share at our Shabbat tables.
Community Beit Midrash
This year we will explore and discuss Yossi Klein Halevi's powerful book "Letters to My Palestinian Neighbor." It contains perspectives and insights on the Israeli-Palestinian Conflict, the Middle East, the relationship between Jews in the Diaspora and Israel, and Jewish Identity. Rabbi Peltz, Rabbi Wexler, and Rabbi Lindemann, along with other community Conservative rabbis, will lead the conversations each week.
Monday nights, 7:30-9 pm at Kellman Brown Academy: January 27, February 3, 10, 24; March 2, 16, 23, 30; April 6
Registration is $25 (Cost for the book is separate.)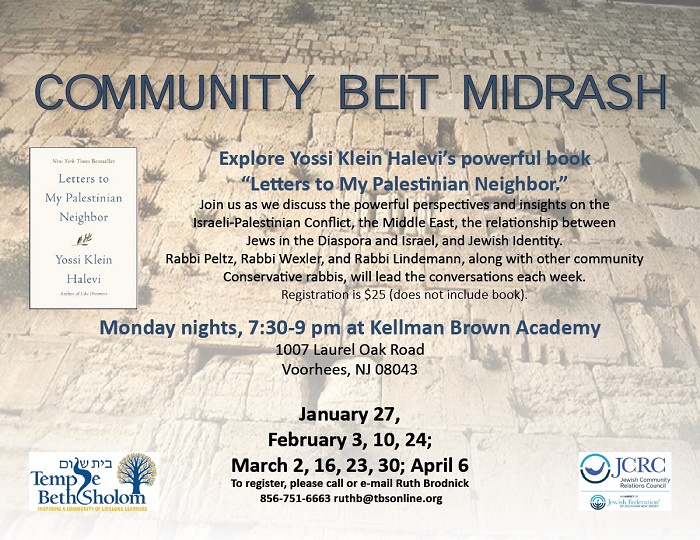 Project Zug: Your Partner for Jewish Learning
Pick an online course that will be facilitated by Rabbi Peltz, Rabbi Wexler or Alex Weinberg
Request to be partnered with another TBS member – your "Zug"– or sign up with a partner!
Each week you will receive a video lesson and source sheet.
No Hebrew or technology background necessary to participate.
Learn with your partner on your own schedule!
Courses offered for 2019-2020, starting the week of November 4:
Facilitated by Rabbi Peltz (10 sessions)
The Prayerbook: New Interpretive Methods with Rabbi Elie Kaunfer
The Jewish prayerbook is a scrapbook of prayers composed over the years, ancient words that have been said by Jews across generations and communities. What do these prayers actually mean, and how can we relate to these words in a deeper way? This course invites participants to look anew at the Siddur with an eye toward personal meaning. This course is intended for those with a prayer practice, but also for those interested in examining this rich literature from a personal perspective.
Facilitated by Rabbi Wexler (8 sessions combined)
Shabbat Rituals: "The Oldest Way to Friday" with Rabbi Jessica Minnen
Every week, the Shabbat dinner table gives you an opportunity to take a break and be fully present in your
life. Ritual and blessings can make that possible, helping you carve out a moment in your week to connect to
yourself and others. We hope this course inspires you to experience ritual in a way that reflects you, not only
where you come from but who you just might become, with meaning and intention.
The Balancing Act; Being a Jewish Parent with Rabbi Avi Killip
Parenting young children, while often a blessing, can sometimes be an isolating experience. This course was
created in partnership between Project Zug and Kveller to offer parents a way to meet and connect through
exploring what it means to be a Jewish parent. What from your own parent(s) are you trying to pass on to your kids? When should you prioritize yourself over your kids? What does it mean to raise a child as Jewish?
Facilitated by Alex Weinberg (10 sessions)
How to Question Authority with Rabbi Avi Killip
Is there a right way to question authority? Should I speak out on every issue or choose my battles? When can I leverage power-dynamics, and when should I just keep quiet? In this course we will explore Jewish stories where our ancestors pushed back on the authority of their government and society, of their own Jewish leadership and even of God.

Adult Education
Jews Who Inspire: How Their Values Teach Us To Behave in a Modern World
Led by Gilah Lewis Sietz
Join Gilah as you learn about some great Jewish men and women who have shaped our glorious Jewish history. Their unique lives and values became their legacy, thus enabling all who follow to aspire to be the best of who we are. All are welcome to share in a lively discussion complete with humor and a little nosh.
Thursdays 1-2:15 pm September 19, October 24, November 14, December 19, January 23, February 27, March 12, April 30, May 14, June 4
Beginning Hebrew Reading
Led by Morah Sarah Salmansohn
Want a Hebrew reading refresher? Never had a chance to learn? This is a wonderful opportunity to work on learning the aleph-bet and improve your Hebrew reading skills. $150 enrollment fee for class and materials. RSVP to Ruth Brodnick ​​​​​​.
Mondays, 6:30-7:30 pm Sessions begin on October 8 through December and then January through Memorial Day
Hebrew Ulpan
Led by Morah Hedva Levin
Join Hebrew teacher Hedva Levin for a weekly interactive Hebrew Ulpan. Students focus on speaking Hebrew as well as grammar and Hebrew reading.
$250 enrollment fee for class and materials. RSVP to Ruth Brodnick.
Thursdays, 12:45-2:15 pm
Let's Make a Meal
Led by Morah Harriet Baker
Let's Make a Meal is a Solomon Schechter award-winning, hands-on kosher cooking series designed for adults who are interested in enjoying a social night out while learning how to incorporate delicious, homemade kosher cuisine for busy routines. Participants will learn about kashrut and Shabbat/holiday traditions while preparing meals ready to be put in the oven the next night for Shabbat dinner. Recipes and resources are included with each session so that participants can apply their knowledge at home!
Thursdays, 7-9 pm, November 14, December 19, January 30, Sunday, February 23
Bar and Bat Mitzvah Parent Meetings
Led by Rabbi Peltz, Cantor Cohen, Rabbi Wexler and Dr. Alvin Stern
Sundays, 11:15 am-1 pm, September 15, February 9
Bar and Bat Mitzvah Honors Meetings
Wednesdays, 7:30 pm, September 4, November 6, January 8, March 4, May 6
The How To's of Prayer Led by Dr. Alvin Stern
Workshops offered after Evening Minyan at 8:15 pm:
How to have an honor in our services: September 18
Hagbah Workshop: October 28
Leading Shaharit, Minha, Ma'ariv Services: November 20
Tefillin Workshop: November 25
Workshops are open to all congregants and are a great way to learn and explore new rituals.
Wed, July 8 2020 16 Tammuz 5780