Eric B. Jacobs Early Childhood Education Center
Eric B. Jacobs Early Childhood Education Center
Welcome to our community! Enrollment in the Eric B. Jacobs Early Childhood Education Center includes synagogue membership.
Families will enjoy the full benefits of membership at TBS, including High Holy Day, Shabbat and holiday celebrations, classes, and other congregational experiences!
Our program was created to be a home away from home for our children to grow and for our families to be engaged in opportunities that being part of a synagogue community provides.
TBS families grow together as they participate in hands-on learning experiences that immerse them in Jewish life and develop strong relationships in our community. Our children and their parents will easily transition to their next levels of learning and care in an individualized and inclusive program at TBS. Ask us for details about this exciting new membership policy.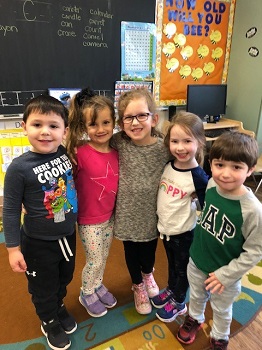 We look forward to sharing a lifetime of learning and growing together in our community!
The Noah's Ark Indoor Play Center

The Noah's Ark Indoor Play Center is surrounded by hand-painted murals of animals depicted in their natural habitats. This spectacular playroom encourages play and development of gross motor skills. Children enjoy the fun of climbing on a rope wall, crawling through tunnels, or fishing off the side of a galley.
Greenhouse
Our Gan Yeladim Horticulture Program engages students in hands-on experiences that emphasize holiday harvest traditions, Tikkun Olam (repairing the world), nutrition, and exploration of nature.
Infant/Toddler Sensory Center
As our infant and toddler program has grown, our Noah's Ark Indoor Play Center has expanded to include a developmentally appropriate play space for our youngest learners. With support from the Morrow Foundation, our littlest explorers play freely while climbing and crawling in a jungle-themed setting. The play area, constructed by the NJ Garden State Discovery Museum, allows children to engage in gross motor activities in a warm and cuddly environment.
Our Mission
Temple Beth Sholom is a welcoming and inclusive sacred community that connects its members to one another, Judaism, and Israel through interactive spiritual, educational and social experiences.
Since its start in 1990, the Eric B. Jacobs Early Childhood Education Center has been recognized for providing an innovative and family-centered program in a loving, nurturing Jewish environment.
Children thrive with a strong foundation in academic and Judaic studies while fostering social and emotional development. Students engage in everyday experiences that build their cultural and Jewish identity. Through a partnership of parents, our clergy, highly qualified teachers and specialists, children grow to become confident and inquisitive learners.
Early Childhood Education Programs
Full day classes for all age levels, 6 weeks to Pre-K
Monday - Friday, 7 am - 6 pm with options to accommodate your schedule.
For each age level, all children must turn that age by October 1.
Synagogue Membership is included for enrolled families.
For a tour or more information email Early Childhood Director, Annie Siegel, or call 856-751-0994.
Infant Program 6 Weeks-12 Months
Toddler Program 12-18 Months And 19-24 Months
Our infant and toddler programs offer warm, inviting, and nurturing
atmospheres where children can learn and grow. Professional, loving staff care for our students as they develop in our community. Infants and toddlers explore and learn in newly renovated classrooms that are designed to engage our youngest learners in developmentally appropriate activities.
Toddlers learn self-help skills such as eating, playing, and talking. These young walkers thrive on indoor and outdoor play, including using age-appropriate resources such as walking and riding toys, toddler manipulatives, games, puzzles, and story time. The classroom schedule provides for nap times, and it is designed to advance your child's social, physical, emotional, and intellectual growth.

2 & 3 Year Old Programs
Our two and three year old programs immerse our students in an integrated secular and Judaic curriculum. Students learn in multisensory, hands-on environments that encourage exploration and discovery. Our dynamic faculty creates experiences that encourage our students to learn and grow in developmentally appropriate activities that enhance students' social, motor, and cognitive development.
4 Year Old Program
Our Pre-Kindergarten program continues to address the developmental needs of each child and lays the foundation for more formal learning. Children are encouraged to work both independently and cooperatively. Language skills are expanded through reading prose and poetry, dramatic play, and conversation. Handwriting Without Tears, a multisensory approach to teaching letter development, is also included in the curriculum.
Camp Keshet
The fun continues into the summer! Our summer program offers 8 weeks of thematic activities, entertainment, art, cooking, water play, and much more! This is an ideal program for two year olds to transition into an early childhood setting. At the same time, the older children engage in developmentally appropriate activities designed to encourage creativity and socialization.
Meeting Your Family's Needs

Temple Beth Sholom is a warm, safe, and caring environment for all of our families. Our families come from various backgrounds and experiences, and we embrace each of them as we grow together at TBS. The TBS Eric B. Jacobs Early Childhood Education Center is nut-sensitive, and we work with our families to be inclusive and responsive to all of our children's needs. Additionally, our TBS faculty and staff partner closely with local community educational programs that provide support for students with special learning needs.
For more information about the Eric B. Jacobs Early Childhood Education Center, please contact Early Childhood Director, Annie Siegel.
Sun, September 24 2023 9 Tishrei 5784