Executive Director
Executive Director Message
December 2, 2021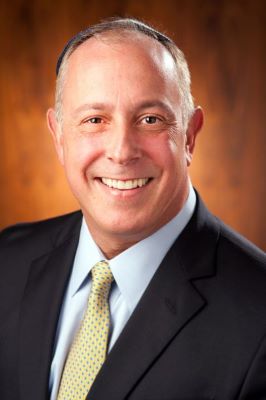 A Hanukkah message
As we get ready for the fifth night of Hanukkah, and the end of the (secular) calendar year a little more than four weeks away, we once again look back at what a wonderful year it has been for Temple Beth Sholom, albeit not without its challenges as we still navigate the turbulent waters of the pandemic. It was another year filled with exciting programming, celebrations, learning and milestones, both in-person and virtually, including wonderful performances with Divas on the Bima and Broadway is Back! This coming Sunday 12/5 at 5pm is our annual Festival of Lights Fireworks Celebration at Kellman Brown Academy (it's going to be a blast!), and on Monday 12/13 at 7pm Mitch Albom returns to discuss his latest novel. Our membership has held steady, Plus Giving increased and sponsorships are at an all-time high. We gratefully acknowledge those who contributed to the High Holy Day Appeal and those families eligible for discounted Senior membership dues who have chosen to renew their TBS membership at the General membership dues. And while COVID-19 is still causing loss of revenue and increased expenses for us in many areas, we continue to pay down our mortgage, new endowment funds have been created, and we are increasing our information technology initiatives in an effort to continue to provide our TBS community with programs, classes, and services virtually. None of this would be possible without your support.
This past Tuesday was Giving Tuesday, and surely you received emails from many organizations asking for donations. I wanted to reach out again about year-end contributions in the spirit of dedication as we celebrate Hanukkah. The word Hanukkah means "rededication." This is because it celebrates the rededication of the Temple by the Maccabees after their victory over the Assyrian-Greeks in 165 BCE. In order to rededicate their Temple, the Maccabees cleaned out the sanctuary, relit the menorah, and celebrated for eight days. This makes us wonder: how will we rededicate ourselves to Judaism and our temple this Hanukkah? Our kehillah kedoshah, sacred community, is powered by generosity. We are blessed with many dedicated volunteers who give their time and exert tremendous effort to make TBS a caring community. We are also blessed with many dedicated donors who help make sure that we have the resources we need to inspire Jewish living and learning. One of the ways we celebrate Hanukkah is by giving gifts. So, in the spirit of Hanukkah, and dedication, we ask that you rededicate your commitment to TBS with a gift to help us continue to pursue our mission. As you consider making year-end gifts to organizations, we would like you to consider adding TBS to your list. Perhaps you would like to contribute to one of our many funds that you find meaningful. At this time of year, many of us consider year-end charitable contributions, not only in the spirit of giving, but to help offset our tax liability. As always, your donations to TBS are greatly appreciated and are used in many ways to enhance our synagogue.
Some congregants choose to pay their dues in full or pay down their building fund balance to help offset their tax liability. Others choose to donate their required minimum distribution from their IRA to TBS. Some congregants choose to donate to TBS through the contribution of stock. This is a very attractive year-end tax-savings strategy, especially considering strong market gains in recent years. Donating appreciated stock can increase your tax benefit. If you donate an appreciated security that you have owned for longer than one year, you will avoid paying the capital gains on the sale. In addition, the gifted stock allows you to potentially deduct the entire value of the donation on your tax return. Stock donations can also be applied towards various areas of financial obligation to the synagogue. An end-of-year charitable contribution to TBS is a wonderful opportunity for all of us to lessen our tax burden and provide a valuable donation to our shul.
Regardless of whether you choose to contribute because we are in the midst of celebrating Hanukkah, or because you want to get that year-end tax deduction – we are grateful. If you cannot give today, please consider a gift for the future through the Life & Legacy program. If you would like to learn more about Life & Legacy, or how you can make a donation to Temple Beth Sholom through the contribution of stock, please contact me at rons@tbsonline.org or (856) 751-6663 x218. For tax advice, please consult your tax advisor. On behalf of the TBS Clergy and staff, we hope you have a happy Hanukkah!
Ron Safier
Executive Director
COVID-19 Vaccination Policy
To ensure that we can gather in-person in the safest possible manner, and for the health and safety of our clergy, staff, congregants, and visitors, effective October 1, 2021, all those eligible to be vaccinated against COVID-19 (currently, those ages 12 and older) will be required to be vaccinated in order to attend in-person services, programs, and events at Temple Beth Sholom.
Additionally, in accordance with the latest CDC guidance, face masks are required indoors for all individuals above the age of 2, regardless of vaccination status. For all outdoor events, masking is highly recommended but not required. Masks will be required outdoors only in areas in which we are unable to maintain appropriate social distancing.
Wed, December 8 2021
4 Tevet 5782
Wed, December 8 2021 4 Tevet 5782