Young Members Group
Young Members Group
About Us
Thank you for visiting the Young Members Group
website! We invite you to explore the wide range of Jewish family and adult programming on our calendar of events, and we hope that you'll join us!
Here are a few frequently asked questions that may provide some helpful information about our group:
What is Young Members Group?
YMG is an active community of young adults and families that offers meaningful Jewish family, social, religious, and educational experiences both at TBS and in our local community. YMG represents a strong undercurrent of TBS, and it has approximately 250 members.
Who is the target audience of Young Members Group?
YMG programs are geared towards both preschool AND religious school-aged families. Additionally, all programs
are open to both members and non-members of TBS. Our steering committee has worked hard to create a high standard of innovative experiences that enable our families to grow together and develop strong relationships in our community! There is something on the calendar for everyone in your family.
Who is part of the Young Members Group Steering Committee?
Our YMG steering committee is made up of TBS members who are:
men and women

early childhood and religious school-aged parents

moms and dads with children learning at TBS, the Katz JCC, Kellman Brown Academy, as well as other local synagogues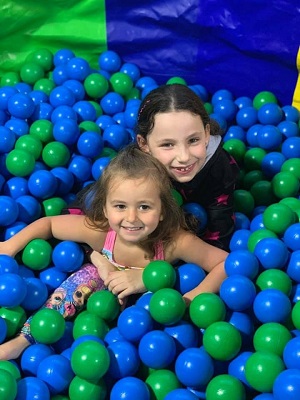 This diversity helps our committee in planning initiatives that are intended to appeal to a broad range of young Jewish adults and families. As part of the same synagogue family, our committee considers TBS our spiritual "home away from home", and we want to share that connection and level of comfort with you and your children!
Where should questions or feedback be directed?
If you have any ideas to share, or would like to become involved please email me or one of our committee members. We'd love to hear your input! Please be sure to visit our site frequently for updated scheduling information, event registration, as well as recent photos!
L'hitra'ot!
Ben Landsburg and Sarah Sellers
Co-chairs
Upcoming Events
Shabbat in the Sukkah under the Stars
Come in your PJs to have breakfast for dinner, make a Sukkot craft, and celebrate Shabbat!
Friday, September 29 at 5:30pm
Temple Beth Sholom Sukkah
$25/family
Register here!
---
It's a Skating Party!
Enjoy an afternoon of skating and making new friends with the
Temple Beth Sholom Young Members Group!
$15 per person
for admission, skate rental, and snacks
**Skate Assistant/Walker rental
is based on availability
($6 to be paid on site)
Sunday, October 15
12:30-3:00pm
Hot Wheelz
664 Deer Road
Cherry Hill
Questions? Ask our Fabulous Chairs:
Lauren: lauren@justspeechie.com
Brooke: brooke30@me.com
Debby: debrasukinik@gmail.com
Kindly RSVP by October 8
Sun, September 24 2023 9 Tishrei 5784