Service Schedule
TBS Update
June 23, 2021
Dear TBS Family,
From the very beginning of this pandemic, we have been guided by the mitzvot from our tradition that teach us to guard our own health and the health of others. This has led us, like many other synagogues around the world, to provide opportunities to gather virtually and place limits on in-person gatherings at TBS. It has also led us, as Rabbi Peltz wrote in his teshuvah passed by the Committee on Jewish Law and Standards of the Conservative Movement, that getting vaccinated against COVID-19 is a mitzvah for all those able and eligible.
As public health guidance has evolved throughout the pandemic, we have thoughtfully provided opportunities for indoor and outdoor in-person gatherings of varying sizes. We are pleased to share that we have updated our in-person gathering policies per the latest CDC and New Jersey State guidelines and the recommendations of our TBS COVID Medical Task Force. What follows is a summary of our updated policies and the practical implications for services and programming this summer. The following policy changes do not include programming and classes in the Eric B. Jacobs Early Childhood Education Center for this summer. All school programs will continue to be guided by the protocols prescribed by the New Jersey Department of Children and Families.
Masks are no longer required outside for all non-school related programs but are encouraged if you are more comfortable wearing one.
Effective Saturday, July 3, we are no longer requiring masks during services in the sanctuary for those who are fully vaccinated against COVID-19.
Anyone who is not fully vaccinated against COVID-19 is still required to wear a mask when entering the building and during services.
Registrations for services are no longer required.
We no longer require screening forms and temperature checks. If you are experiencing any symptoms such as a fever, cough, loss of taste and/or smell, or shortness of breath, or are simply not feeling well, please stay home and join our programming virtually.
Signage will be updated throughout the building to reflect these changes.
As a kehillah kedoshah, a sacred community, we trust that each individual takes the mitzvot that require us to protect the health and safety of others seriously. Additionally, we recognize that there are those who are vaccinated in our community who will feel more comfortable wearing a mask in our sanctuary for services. We appreciate that each of us is adjusting back to "normal" life at a different pace.
For the health and safety of our clergy, staff, and congregants, we will continue to evaluate our policies and procedures with our medical team.
Stay tuned for communication about our in-person policies and procedures for the High Holy Days, which will be designed to have as many members of our TBS family in the sanctuary as possible, feeling safe and comfortable.
Thank you to the clergy, staff, lay leaders, and members of our COVID Medical Task Force who have put countless hours into guiding us forward safely. And thank you to you, our TBS family, whose continued engagement and participation during these challenging months have kept us strong, vibrant, and ready to move forward together.
L'shalom,
Marty Chazin, TBS President
Rabbi Micah Peltz
Ron Safier, Executive Director
TBS Services Update
Friday Night Kabbalat Shabbat services will be at 6:15 pm in the Jenofsky Beit Midrash/Rose Chapel beginning July 9. Services will be livestreamed.
Shabbat Morning Services (Beginning July 3)
Services will begin at 9:30 am in the sanctuary.
Seating restrictions in the sanctuary have been removed, but reasonable social distancing is encouraged.
We will resume our full Torah reading and other parts of the service that have been absent due to COVID concerns.
Everyone is invited to join the congregation for Kiddush in the tent after services.
Services will be available virtually through livestream. We will no longer be offering a Zoom option on Shabbat morning.
Shabbat Minha/Afternoon Services will continue exclusively on Zoom until July 17, when we will meet in the Jenofsky Beit Midrash/Rose Chapel at 8:20 pm. Services will be livestreamed.
Daily Minyan
Morning and evening minyanim will continue to meet virtually over Zoom until Sunday, July 18, when we will resume our regular Minyan schedule, in the Jenofsky Beit Midrash/Rose Chapel, with Shaharit (Morning) services at 8:15 am on Sundays and 7:00 am Monday-Friday, and evening services at 8:00 pm Sunday-Thursday. We will continue to offer a Zoom option for morning and evening minyan for the foreseeable future.
Service Schedule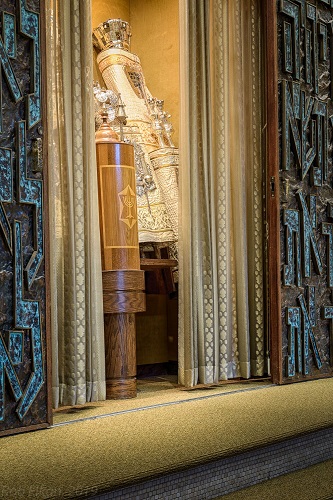 Effective Sunday, July 18: Our services warmly embrace all of our congregants and friends in the community every day of the week in-person. Click here for a virtual option.
Daily Services:
Monday-Friday at 7 am
Sundays plus New Year's Day, Memorial Day, July 4th, Labor Day, Thanksgiving & Christmas at 8:15 am
Evening Services:
Sunday-Thursday at 8 pm
Shabbat Services:
Friday: 6:15 pm
Saturday: 9:30 am
Congregational shabbat Evening Services:
Saturday evening before sundown - please click here for times.
Congregational Courtesies
Please greet your friends and those you don't already know with "Shabbat Shalom" (a peaceful Sabbath) and say hello! On Jewish holidays the appropriate greeting is "Hag Sameah" (Happy Holiday)!
We strive to create a holy, spiritual environment for our prayer experiences. Kindly refrain from using cameras, cellular phones, and other electronic devices while in our building on Shabbat and Jewish holidays.
For the comfort and convenience of families with young children, a portion of the Helman Auditorium, just under the balcony on the Rabbis' side of the sanctuary, will be open for seating. If your child's attention span begins to wane, this section will provide easy access to an exit.
It is customary to stand when the Ark is open, the Torah is being held, or for certain prayers.
Kindly remain in the sanctuary while the Rabbi or bar or bat mitzvah is speaking, the Torah or Haftarah is being chanted, the Ark is open, or presentations are being made.
Our entire building and premises are smoke-free at all times.
Fri, July 23 2021 14 Av 5781